Juliana was single Taglivine's daughter. She always worked hard in the fields helping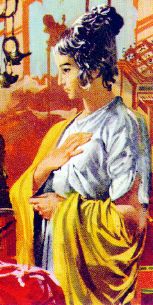 her parents to pay the houseís expenses and so, she faced hard times when trying to negotiate the agricultural products. It was a woman that lived very simple, without if to worry with the vanity. Your clothes were unpretentious and didn't wear any make-up to highlight your beauty. Juliana had hair dark chestnut, not wavy hair but straight hair, carefully disposed and sometimes adorned by some little ornament. When the father died she went together with the mother to Lystra, where she stayed living in a rural property that it belonged to her father's brother - the Uncle Orlando Taglivine. Mother and daughter have started to work in the vineyard, where they won sufficient to have an existence with dignity and peace.
The property was about six kilometers away from the town. When they finished the tasks walked weekly until the city, mainly in the mornings of sunny Sunday, opportunities in which they amuse if with the novelties of the trade.
There is four years she was living there, and although having excellent personal qualities, she had not interest in getting marriage. Politely she left never an approximation of the boys, always maintained a comfortable distance. Because in truth, no young very attractive had presented and still, she didn't forget of the feeling which reserves since the youth.
She always thought in that love from the youth with much tenderness and endearment... Remembered of Longinus's sincere and captivating smile, also of the correct and loyal attitudes and of his admirable fidelity. Echoes from a past that doesn't allow her dreaming... This due to reality their and also the distance that separate them, and above all, the lack of news of one at the other which was slowly suffocating, the love that still there was in her heart.
In fact, Juliana wasnít having any hope to meet Longinus again. Although very young, 25 years old, she wasnít feeding such illusion, was aware that would be almost unlikely the dream from her youth to come true.
On the other hand, during the last Sundays, her life began taking a new direction. A preacher appeared in Lystra; was a man of low stature and little beard, but a person of great importance, showing deep wrinkles on the face, a signal of a very hard and difficult living. He spoke with very vigor and with an outstanding fluency, of a manner that captivated and impressed, because he if expressed with coherence, with simplicity and arguments replete of logical; your name was Paul and was an apostle of the LORD JESUS.
At first, Juliana and the mother liked listening what he was saying, but didnít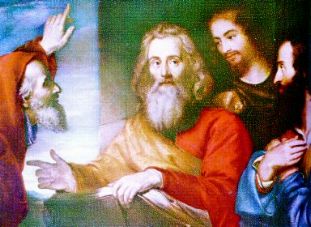 quite understand him. Both were pagans, and only they knew of the pagan gods, principally Juno and Minerva which liked more. But, attending those public audiences, Juliana began to feel more and more attracted by the truths that he taught. And so, after the seventh Sunday, Juliana and the mother, besides many others, they asked to be introduced into the new religion, receiving the sacrament of baptism, definitively belonging to the Christian Community founded by Paul of Tarsus.
That group, timid in the beginning, it grew not only in number, but also in enthusiasm by the GOD'S Doctrine, sure that they were in the right road.
Therefore, with the great afflux of people some problems showed up in the community: the need to get a place where together they could be sheltered of the heat and rain.
Blooming positively, Sylvana and Juliana took initiatives by donating half of their inheritance, although of little value, was without doubt a generous and stimulating gesture to help the Church newly born.
And with much dedication, from that time on, the two have dedicated their free time to help the community that continued growing enthusiastically along the months and years.

Next Page


Previous Page

Back to Index